Barcelona has been hosting annual jazz festivals for over 45 years now. The festival usually takes place all over the town. For you to attend Barcelona Jazz Festival 2013 you will need to purchase individual tickets for every event there is no single ticket that covers all events.
This international jazz festival features world class performers and more than fifty concerts in 20 venues around Barcelona. The following are some of the unmissable performances at Barcelona during this year's jazz festival.
Highlight Schedule
Lee Fields and the Expressions will be performing on Friday November 9th but at a different venue; Luz De Gas, at 9:30pm. If you are a lover of soul, blues, house music and spot jazz you cannot afford to miss this event.
Milow, a Belgian singer and songwriter, will be performing at Teatre Arteria Paral-lel on Friday 9th November at 9pm. He is one of the most successful self-made musicians in Eastern Europe.
On Friday November 16th, Melody Gardot will be performing at the Palau de la Musica Catalana at 9:30pm. This is a one life time opportunity so you cannot miss the thrilling musical styles of this Grammy nominated singer and songwriter who comes from Unites States.
Another performance during the jazz festival Barcelona 2013 will be from Hot Stuff, and it will be at Harlem Jazz Club on Friday, November 30th at 8pm. If you love soul, funk and spot blues, this is really something for you!
Other venues at which jazz festival Barcelona 2013 will be hosted include L'Auditori, Auditorio Nacional, the Liceu, and Insitut Francais. Apart from the big name venues, there are many great smaller haunts in Barcelona where live jazz shows, flamenco concerts, salsa shows as well as classical performances bring in those with discerning tastes.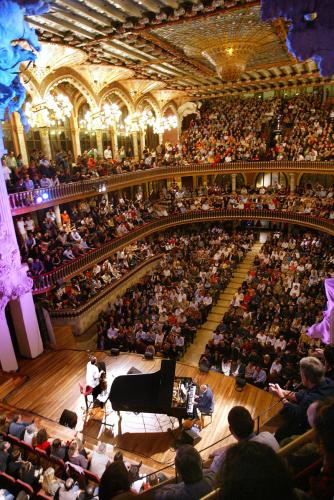 Tickets
Tickets for the Barcelona Jazz festival 2013 can be purchased at the door, but you may end up missing a seat if you expect to get a ticket that way. The easiest and most convenient way to secure a spot is through buying tickets online.
You're Accommodation
If you like to have a comfortable stay in Barcelona you can book an apartment by Enjoy apartments. We have a lot of apartments divided over the whole city so you can choose one near the festival. Enjoy apartments give you easy access to public transportation so you will not have any problem going to the jazz festivals at different venues.
Would you like to have more information about the newest updates about events, discounts and more? Subscribe your self then today and get a free mini guide from Barcelona with it!
http://enjoy-apartments.us4.list-manage.com/subscribe/post?u=2bcf28de20346ee9f43f864b0&id=230891d64c